Payment is due at the time of services.
We accept cash, checks, and major credit cards Visa, Mastercard, Discover, and American Express
CareCredit

Whether it's a routine checkup or emergency surgery, you shouldn't have to worry about how to get the best medical care for your pet. That's why we're pleased to accept the CareCredit healthcare credit card. CareCredit lets you say "yes" to recommended treatment for your pet immediately, and pay for it in convenient monthly payments that fit your budget. CareCredit is the healthcare credit card designed exclusively for healthcare services. With CareCredit, you can use your card for all of your pet's follow-up care as well as annual exams and vaccines.
Low Monthly Payments (3% of the Total Balance)
Interest Free For 6 Months
Determine Approval in a Few Minutes
No Annual Fee
If another person is paying for your invoice, please have them visit Pay Your Provider as we are unable to transact with a card unless the cardholder name and ID match.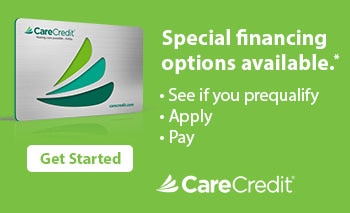 Insurance For Your Pets
Another popular option for your family and pet is insurance coverage. To learn more, please visit the following pet insurance websites . . .